Our Coffee Capsules
All background information about our Capsules choice
After a long search, we found a way to bring you a capsule that meets all of our requirements. Two things were important to us: taste and environmental sustainability. Get ready for guilt-free capsule with different roasts that offer high flavour intensity and complexity in your cup.

Since coffee capsules have grown in popularity, we wanted to bring our own sense of quality, careful sourcing, and sustainability into the picture so we reach more people with our amazing coffees. 

To stay true to our values, our capsules had to be environmentally conscious as well. Our supplier, based in south Germany, makes the capsules out of food-safe wood fibres. With 100% bio-based materials, we can guarantee sustainable and CO2 neutral disposal.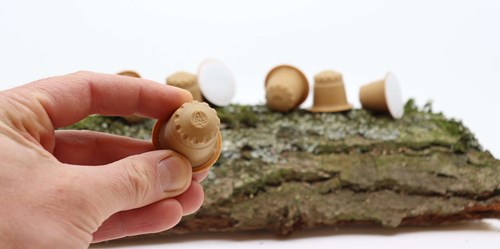 Since we only have renewable resources which originate from the cycle of nature, no harmful substances can be released into the environment during subsequent disposal. In doing so, we create a natural cycle that ensures CO2 Neutrality from the creation of value to recycling and returns nature its resources.

1. Natural material of Wood

Wood is a great raw material - for our coffee capsule we use softwood from south German forests. When sawmills produce construction and furniture wood, large quantities of sawdust and wood shavings are produced. We use this residual product in a natural form as raw material for our coffee capsules. We don't have to process them chemically, we don't have to cut down trees and we create an additional value-added stage for this great natural material.

2. Binding agent made from plant starch
We do not carve our coffee capsules from the solid - that would cause considerable waste. That is why the wood fibers must be held together with a binding agent. For this we use PLA, a bioplastic that is produced from natural plant starch. This vegetable starch is obtained from corn and sugar beet. Our PLA is tested for composability. However, since the wood content of the capsule is predominant, it decomposes faster than conventional bioplastic packaging.

3. Environmental friendly production
It is important to us that the production of the coffee capsules is also environmentally friendly. Therefore our capsule producer pays attention to short distances and they produce the entire product in Germany. For this they use exclusively Green Electricity from hydropower plants in the Alpine region.
4. 100% bio-based
Our sustainable coffee capsules are aroma-tight and our outer carton contains neither aluminum nor plastic. Furthermore, our producer ships all our products climate-neutrally with DHL GoGreen.
5. Return to Nature
After use, our coffee capsules can be completely returned to nature. Due to 100% renewable and biodegradable raw materials, there is technically disposal via the green bin or in your garden compost, nothing stands in the way. Here, the coffee capsules and their contents serve as degradable structural material. In addition, the coffee grounds have a positive effect on the nutrient content of the compost. Alternatively, our coffee capsules can be thermally recycled, for example by disposing of them in the residual waste. As the material consists entirely of renewable raw materials, the incineration process is CO2-neutral and also provides electrical energy through conversion in the associated power stations.