We roast coffee for cyclists because we believe that drinking good coffee and cycling belong uniquely together. That sounds amazing but let me tell you where Il Magistrale Cycling Coffee originated, our background and journey in becoming the first European Cycling Coffee brand.
I started this adventure after having learned almost everything in theory there was to know about coffee and coffee roasting, but let me take you back a bit further. Like many of you I bought a simple semi-automatic espresso machine one day and started my search for good espresso beans. After leaving the supermarket quality behind me I was focused on Italian espresso blends as I was also working for periods in Milano for Pirelli. The key problem I faced was when I finally had a good bag of beans with an amazing fresh crema on my espresso, the next bag I bought could be terrible again. It frustrated me so much that I went to the source, the coffee roaster.
It was early 2013 when I found myself roasting my first coffee beans on a Probat P5 coffee roaster. I found some guys (pensionados) that were roasting coffee for a small shop in a care farm for mental handicapped teenagers. They sensed my passion for coffee and liked that I brought the average age of the roasters down. We roasted mainly organic beans from Ethiopia and Guatemala following our own rules of taste below a thatched roof on the attic of a farm. How sexy do you want it!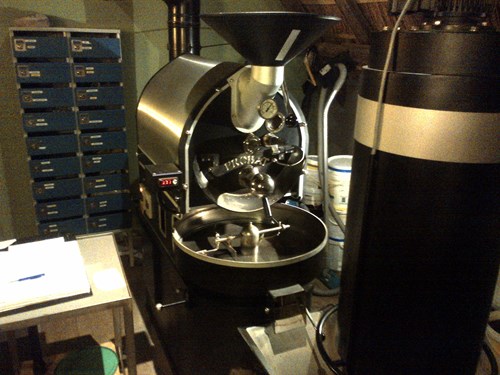 Ok, but where came cycling in? Actually it never came in, I have been cycling my whole life since I was 3 years old. Cycling comes as natural as breathing to me and it started with a BMX bike (Raleigh Rampar, check google!) and slowly moved from a race bike to my first mountainbike early 1990's. My passion for sand, forests and gravel started there. Did some low threshold races but mostly enjoyed the freedom of exploring above racing. While starting Il Magistrale I just got my first Italian race machine, a Cinelli.
We are in 2015 and I decided to dive deeper into the world of coffee by doing a roaster masterclass, an apprenticeship with the A'dam based coffee roaster Kees Kraakman and got my professional barista degrees. Life at Pirelli is still good but my passion for coffee is taking the upperhand. As more and more cycling themed coffee bars are popping up I figured it was time to start thinking of my own coffee brand. While cycling in the Alps it hit me that my brand was going to connect both worlds as cyclists love to search for the best coffee during their rides. Nicknames of former World Champs, epic mountains would be the starting names of the coffee blends. We started with Cima Coppi, Bom van Balen (Tom Boonen) and the Superprestige.
Roasting started in Eindhoven but quickly it became evident that I needed a more professional environment for my brand. Luckily my network in Dutch coffee land was becoming bigger and I found the ideal partner where I could roast my coffees. The first two years I really struggled between my "normal" job and my new paid hobby till I reach a point of no return early 2017. We partnered with Laurens ten Dam and roasted our Gravel Grinder for him, the Magistrale missile took off.
We reached out to fanatic cyclist via cycling cafés, during bike fairs and private events. Beginning 2019 we got ourselves a "brand new" German firetruck from 1975 that we rebuild into a coffee truck and we could travel the countries of Holland and Belgium to present our coffee during the bigger cycling events. Key motto: bring our premium coffee to cyclists everywhere.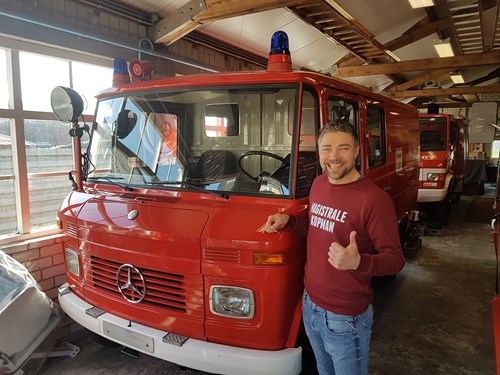 Nowadays we work with 5 people, a bunch of self-employed cycling fanatics and partners I could never dream of when I started this company. LTD, Team Jumbo Visma, André Greipel, Niek Kimmann and Harrie Lavreysen are just a few who love our coffee and keep performing better since we started working together. It fills me with great joy, respect and admiration that we support some of the best performing athletes in cycling today and for the future. 
Today the journey continues with sourcing better coffees and developing our partnerships with current farmers and finding new and interesting partnerships. We are literally on the doorstep of opening our first own coffee bar.
Till that time we hope you like to try our coffees or subscriptions, share our story to your (not necessarily) cycling friends and feed the passion for coffee and cycling together with us! Please come and find us during events so we can share a coffee and cycling stories together. Till that time:
Get your bike, push hard and start earning our coffee. BE MAGISTRALE